The Elms Lake itself was dug in the 1920s alongside the river chess and the original pond.
Below are a couple of old photos of Rickmansworth that show The Elms Lake.
The first taken in 1927 was taken not long after it was first dug.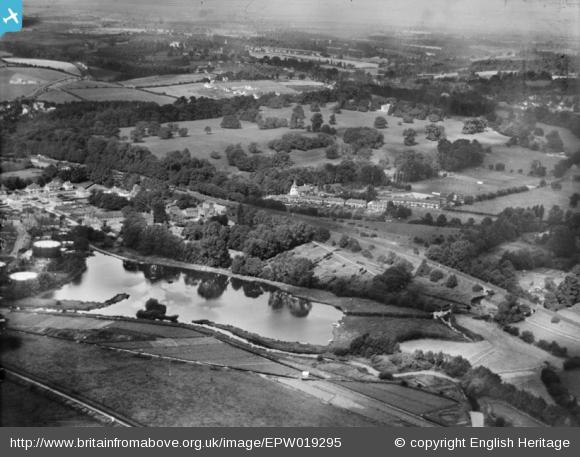 Link to the image source:Lake at Wharf Lane and Rickmansworth Park, Rickmansworth, 1927 – Britain from Above
The photo below was taken in 1932, across Rickmansworth from the North East.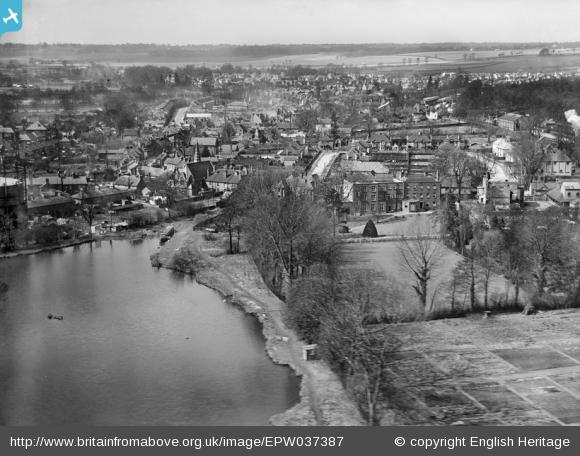 Link to the image source: The town, Rickmansworth, from the north-east, 1932 – Britain from Above
Believed to have been named from the original house it formed part of, tucked away in the centre of Rickmansworth the Elms Lake is on the land that originally formed part of the The Elms House and its grounds. The house, built in 1728, belonged to George Eliot, the novelist who at the time was writing Daniel Deronda. A letter from George Eliot in 1875 describes The Elms, now St Joan of Arc Catholic School, as follows: "We admire our bit of Hertfordshire greatly, but I should be glad of more breezy common land and far reaching outlooks."
The original Elms Angling Club with the support of the then ACA even took on the might of a local paper milling concern. "The case was an important one because large stretches of waterways were concerned. In Elms Angling Club Ltd v. J. Dickinson & Co Ltd (1949), the pollution alleged by the plaintiffs had already been the subject of a report by the Ministry of Agriculture and Fisheries in 1932, and many subsequent complaints had been made. Penal proceedings had been taken in 1939 but the Watford Bench had refused to convict. The defendants denied any pollution of the River Gade, so a trial was inevitable. The ACA Trustees Co. Ltd gave the plaintiffs an unlimited indemnity in respect of costs, although this must have caused some anxiety since the case was expected to last for two or three weeks and the costs to run into several thousand pounds.In the event, the defendants folded during the opening speech of Mr G. R. Upjohn, KC, the ACA counsel, and submitted to an injunction and costs. The plaintiffs had been joined by many other angling clubs affected by the pollution, which the Thames Conservancy stated had affected the River Colne and the Grand Union Canal as far as Uxbridge. Altogether, forty miles of waterways stood to benefit from the removal of the pollution. During the course of the hearing,MrJustice Vaisey commented on the most unsatisfactory state of affairs in which Parliament had set up boards with responsibility for preventing river pollution but had failed to give them adequate powers, with the result that 'public spirited individuals have to undertake the enormous financial risks of civil proceedings to deal with such cases as this'."